Kombucha-rama


November 30 (Friday) at 6:30 pm
1 spot left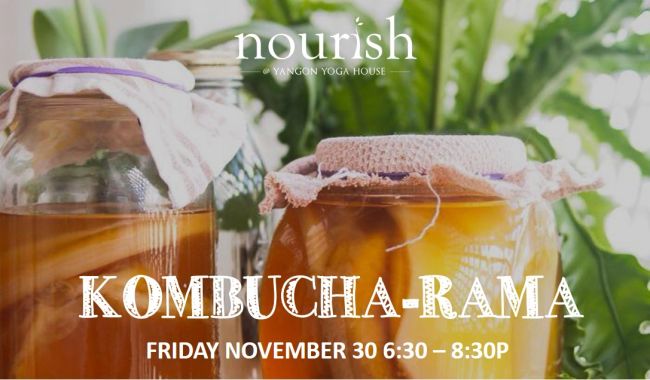 FULLY BOOKED
The tradition of brewing Kombucha traces back thousands of years to the Qin Dynasty who called the fermented beverage "The Tea of Immortality" and "Long Life Elixir."
Join local fermenter Regina Marie for an evening of kombucha tasting, dinner and demonstration on how to make your own kombucha at home.
Regina began bottling kombucha and kefir out of her kitchen in Yangon three years ago after friends suffering from newcomer's "Burma belly" created a demand for her home brewed elixirs. In this workshop and tasting, Regina will share her decade of experience in fermentation, offering step-by-step demo as well as helpful tips and tricks for you to start brewing your own kombucha. You will also have the opportunity to sample some off-menu kombucha recipes.
40,000ks, spaces limited so please register in advance! Price includes appetizers, meal and dessert at Nourish, kombucha tasting, recipe and take-home starter kit (including scobi) to brew your own kombucha at home.
**Online registration requires payment via credit card. If you wish to pay in cash, please email
nourishyangon@gmail.com
to RSVP**
Sorry - that class has already taken place!